We are raising money for a new roof and solar connection.
At nearly 130 years old, the flanger car is in remarkable condition. The interior is finished and now it's time to replace the existing weather worn roof with a new membrane roof and connect the flanger car to the solar grid at BBCRC.
The interior roofing is newer and structurally sound, but as you can see in the above photograph, the existing roof is rustic, but in need of some attention. Our plan is to strip off the layer of asphalt shingles and underlying wood sheeting. We will install a new white membrane roof . The new roof will reflect the sun and help keep the car cooler during the summer months. It will also form a long lasting weather tight seal around the cupola. As far as the installation goes, we have two options. Option 1 is to form a work crew and do the work ourselves before the fall weather moves in. Option 2 is to have a local contractor do the work. We have received a couple of bids but I think we could assemble a capable crew of "bo's " to do the work.
We have installed a low-voltage lighting system throughout the interior of the car. The lighting currently runs off of two 6 volt batteries that are connected to a small solar panel.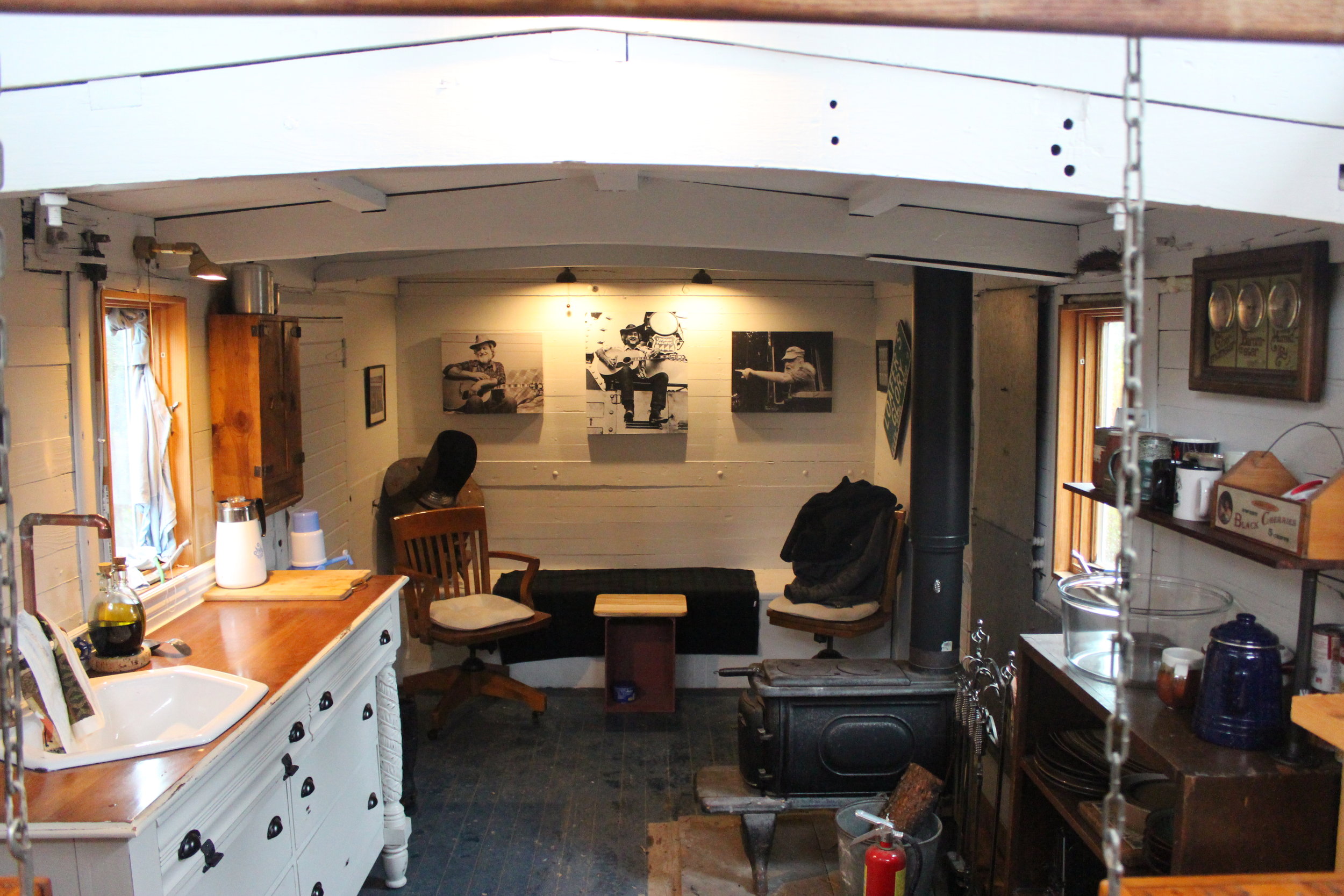 Under the cupola looking back toward the entrance doors.
View From The Sleeping Area
All of the lighting fixtures are custom made from brass and copper using LED technology.
The electrical connection for the flanger car is located on the back of the workshop. We will have to dig a 400' long trench between the flanger and workshop and install a direct bury line between the two. We will also have to install a circuit breaker panel at the flanger car. We could also build a standalone solar system for the flanger…please share your thoughts and ideas with us. The roof is our number one priority. Over the summer we can determine what route to follow with regards to the solar connection.
Please remember - The Long Memory is a 5o1c3 organization, so all of your donations are tax deduct able.